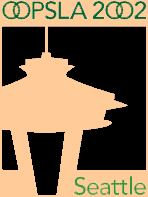 Extravagaria—Art Assisting Science
A Workshop At OOPSLA 2002
Abstract
Artists and scientists share the most important goal: the search for truth. Their methods and approaches differ, and their results are in different languages, but there is no a priori reason to grant primacy to either. In educational research, and possibly in other domains, there is thriving work on using the techniques of art - especially creative writing - to explore research questions and explain results. In software, we not only seek truth and reality, but we create it. Certainly there is a role for art here. This workshop explores that question.
The Name
We selected the name Extravagaria for the workshop for two related reasons: One is that it is the title of one of Pablo Neruda's best collections of poetry; and the other is that the word probably means outrageous or flamboyant wandering or roaming. Though we believe that the practices of art and science really are the same things at a deep human level, most scientists, for example, would consider art to be concerned only with feelings and expression. And in our contemporary educational systems, we have almost completely purged art except as an extravagance for those who can afford it while the real work of teaching and learning goes on in the mathematics classrooms and down the line through science and engineering.
Themes and Goals
Main Theme: Seven features of arts-based educational inquiry will inform, initially, our exploration of how to use and adapt the methods of artists and artistic thinking to designing and building object-based systems and languages. Make no mistake, in proposing this workshop we have no clear concept how it will unfold.
The creation of a virtual reality: Good art pulls the person experiencing it into an alternative reality. In creating our artificial reality using objects, perhaps we tend toward realism, structuralism, and form. Maybe this is too limiting.
The presence of ambiguity: Readers are invited to complete the construction the artist begins. In building our systems we strive for completeness. Maybe this is too limiting.
The use of expressive language: Writers use language that is metaphorical and evocative. Our programming languages are precise and unambiguous, and our scientific language is dry and perhaps falsely objective - giving the appearance of truth when possibly only a half-truth has become pegged. Perhaps we are denying experiencers a quality in our systems based on a cold, dry precision. Maybe in this we are too limiting.
The use of contextualized and vernacular language: Writers do not rely on theoretical argot, and by avoiding it they invite the reader in. Perhaps we can do this in our research and in our design work - and even in building our systems. Maybe we have been too limited.
The promotion of empathy: The use of contextualized, vernacular, and expressive language by writers promotes empathetic understanding. In designing our systems and in doing our research, such a practice could bring us closer to the realm of real users and real people. Maybe we have been too limited.
Personal signature of the researcher/writer/designer/developer: Authors shape reality in their works with their expressiveness and personalities. We feel and know the author. In our research, designs, and implementations, the signature of the author is absent, rendering the artifact an impenetrable other. Maybe this is too limiting.
The presence of aesthetic form: Many works of art, be they written or visual, have some formal structure which guides our understanding and experience of the work. These formal structures form a background against which the work plays out and plays against. In our technical writing and design of software, we tend to follow form too strictly. We adhere to structure and ignore the surface. Maybe this is too limiting.
We will, somehow, explore these questions to find out how art can help us approach understanding our technology and creating our computational artifacts.
Specific Workshop Goals: Examine the creation of art and the creation of object-based systems, and determine where art can inform science on the creation of computational artifacts.
This workshop is intended to bring together researchers, practitioners, and artists to do the following:
Identify where we have stopped short of the creative in building our systems.
Determine whether what makes creative writing approachable can be applied to our programming languages and systems as well as to doing and reporting our research.
Examine questions of ambiguity, alternative realities, and contextual, and vernacular language in the context of programming languages, architectures, design, software creation, and technical and scientific writing.
Notes
At the heart of the question is aesthetics. I make a distinction that others don't regarding aesthetics, so let me point it out so that readers of other of my work will not be confused since in this workshop I will drop my distinction. Art, let's say, has some quality that we recognize as making it art. That quality can be broken into two parts: One that is enduring and depends little or not at all on one's culture or preferences - I call that beauty; the other depends on training, culture, and/or conscious decisions - I call that aesthetics. For example, someone might not like the work of Jackson Pollack because one does not care for abstract expressionism, but almost anyone seeing his best paintings in person will recognize them as art - but perhaps as art they don't like. Abstract expressionism is the aesthetic (or the personal choice of the viewer) while beauty is what makes what makes everyone think it is art. For most of the literature, aesthetics is the term people use for either the combination, which I've called art, or of what I've called beauty, or else they don't honor as closely the distinction I've made.
Given that, here is what Sir Herbert Read has written about aesthetics in education:
Education is the fostering of growth, but apart from physical maturation, growth is only made apparent in expression - audible or visual signs, and symbols. Education may therefore be defined as the cultivation of modes of expression - it is teaching children and adults how to make sounds, images, movements, tools, and utensils. A man who can make such things well is a well-educated man. If he can make good sounds, he is a good speaker, a good musician, a good poet; if can make good images, he is a good painter or sculptor; if good movements, a good dancer or laborer; if good tools or utensils, a good craftsman. All faculties, of thought, logic, memory, sensibility, and intellect, are involved in such processes. And they are all processes which involve art, for art is nothing but the good making of sounds, images, etc. The aim of education is therefore the creation of artists - of people efficient in the various modes of expression.
Art is making form - in Norway, visual arts education is called "Forming." Scientists, by creating theories and explanations of the world, are making forms which express human understanding. These forms can be well done or poorly done - both as theories per se and as expression. That is, the theories can be elegant, beautiful, aesthetically pleasing, and in fact, most theories are judged at least partially this way. And their expression as mathematics or prose can be aesthetically pleasing as well. But the real point is that a theory is a human construction, and it is part of our religion of science that human constructions built a certain way (the scientific method perhaps) and validated by a particular academy makes it science and hence of a particular stature of truth in our society. But it doesn't have to be that way.
Elliot Eisner wrote:
The scientist, like the artist, must transform the content of his or her imagination into some public, stable form, something that can be shared with others. The shape of this form - its coherence - is a critical feature concerning its acceptability. The adequacy of theory is not simply determined by experimental results. Experimental results can often be explained by competing theories. The attractiveness of a theory is a central factor in our judgment of it.
Attentiveness: An artistic sensibility enables a scientist to be more attentive to details, patterns within a field of details, and connections not logically apparent. Noticing is important.
Ambiguity enables a growing set of researchers in a revolutionary or paradigm-shifting field to look for their own facts, projects, programs, and theories.
Narrative: One can argue that the rise of objects is due to its affinity to narrative - objects behave, have personalities, interact in communities, have responsibilities, play roles, etc. Use cases are stories. We create a culture that mimics our stories. This is a different reasoning paradigm than Fortran, procedural, or functional languages, which have strong mathematical structure.
Use of empathetic expression enables others to join the work and find their own places.
Artistic language enables the use of metaphor over abstraction, which fosters other metaphorical thinking and other metaphorical completions. Scientific language uses representational language which promotes moving directly to referents in the real world. Artistic language also invites others to enter into a dialogue with the work.
The personal signature of the researcher invites other takes on the work, which can illuminate it. When all presentation is forced into one form of a highly stereotyped character, there really can be only one work per topic or set of topics. This narrows our view.
Art on one hand and science on the other - is there no blending? Popularizers are considered more artistic than the real scientists. Can there be no continuum?
Criticism: description, interpretation, evaluation, and thematics: Description invites the reader to visualize; interpretation explains meaning; evaluation is making assessments about goodness; thematics is a unified stance or lens on criticism. Even Wolfram is challenging the idea that the predictability that equations provide is worth retaining when a better theory (his) comes from computational rules.
Storytelling is often a way to start new programming paradigms or languages - you tell the story of how to program or a programming difficulty with a resolution. Self was like that.
Validity, truth, replicability, etc are all part of the institution of science, not an external given. Perhaps only technology is the true purveyor of the usefulness of the scientific method. Yet technologies like acupuncture, homeopathy exist, so far, mostly outside this institution.
Competency to work and judge, and a critical community. Validation really comes from a network of critics who are competent to judge. This can become an academy when ?normal science? is in play. But the patterns community does act like its writings are art - with workshop-like improvement sessions and not simply tearing down work: It is cooperative learning.
Fictio refers to the process of making.
Are scientists and computer scientists in particular miseducated, to quote Dewey? What would a proper school look like?
Admission to the Workshop
Admission is by invitation only. We're interested in exploring how aesthetic or artistic practices can assist science. We are also interested in a lively debate. To be invited, please submit a short (up to one page) essay on either a way that art participate in and assist science, or an argument why it's stupid to think art has anything to do with real. scientific thinking. Add a short biography if we don't know who you are. Email it by September 15, 2002, to either Joe Bergin (berginf at pace.edu) or me (rpg at dreamsongs.com), and we'll let you know by October 1, 2002, if you are invited.
Applications Closed